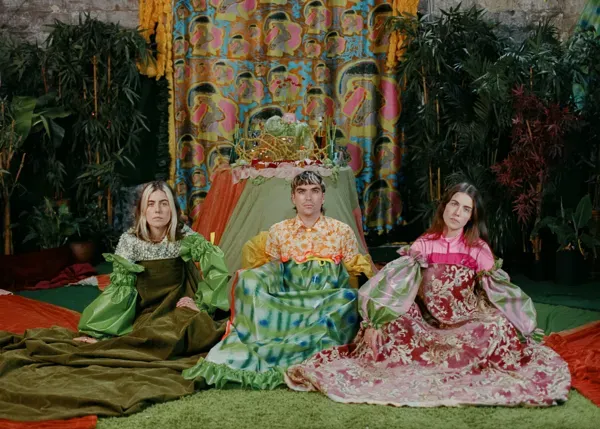 The Hug and Pint
The Hug and Pint
Buy Tickets
Remove from My Festival
Thu 16th June at 7:30pm
VOKA GENTLE
In association with The Hug and Pint
Debut album Start Clanging Cymbals ["Hard to classify and even harder not to love"-Uncut/"Ambition and self assured daring"-MOJO] took William J. Stokes and twins Ellie and Imogen Mason across Europe and the UK, touring extensively and drawing fans like iron filings to a magnet as they went with their chaotic, visceral and euphoric live shows.
Now they are back with second album WRITHING!, which has already gained notable praise ["Exemplary" -The Guardian / "One of the underground albums of the year" -Loud And Quiet / "One listen won't nearly be enough" -Electronic Sound]. Featuring a majestic vocal from The Flaming Lips frontman Wayne Coyne on 'Necrofauna/The Garden Of Eden', plus a piece written using a machine that converts pollution data into sound ('Miasma Field Modulator'), in WRITHING!, Voka Gentle peel back the curtain on a whole world of their own making – chaotic, euphoric and full of sadness. Avant-garde pop, krautrock, softcore guitars, whirring electronica, recurring dreams, techno-inspired noise and ecological dread, delivered with a sobriety that cuts through to the most devastating nerve ending.
Voka Gentle bring their intoxicating mix of Avant-garde pop, krautrock, softcore guitars, electronica and techno-inspired noise to The Hug and Pint.
Entry Requirements: 18+