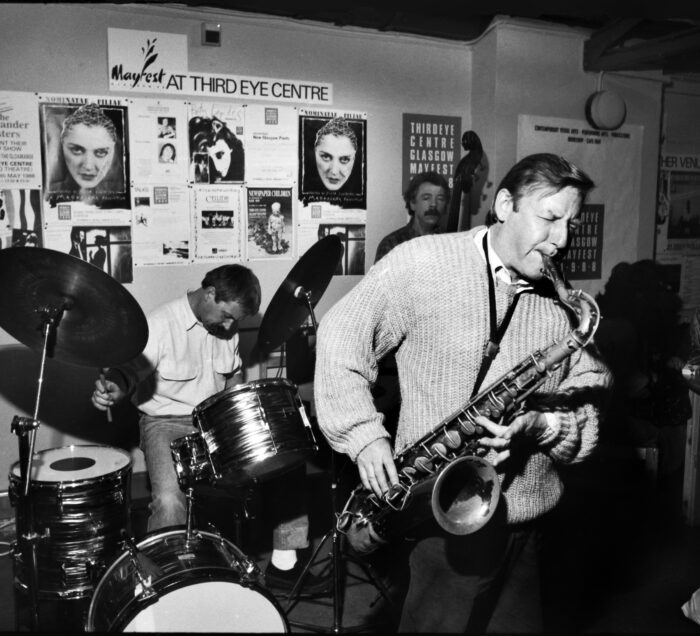 Scottish Music Centre
Stewart Smith
Jazz At The Third Eye
Scottish Music Centre
Buy Tickets
Remove from My Festival
Thu 16th June at 4:45pm
Stewart Smith
Jazz At The Third Eye
Writer and researcher Stewart Smith shares stories and rare archival material from his Creative Scotland funded project Jazz At The Third Eye. Hear about legendary Glasgow concerts by Duke Ellington, Miles Davis and Mahavishnu Orchestra. Discover the connection South African jazz musicians had with Glasgow. And find out about a low-key jazz and poetry gig by a Hollywood star…
Opened in 1975, the Third Eye Centre transformed Glasgow's cultural scene, bringing cutting edge contemporary arts to Scotland and providing a platform for local creatives. An accomplished pianist, founding director Tom McGrath ensured that jazz and improvised music were at the heart of the Third Eye's programming. Working with Platform, the Scottish Arts Council jazz body, McGrath and his team brought the likes of Kenny Wheeler, Trevor Watts, Stan Tracey, Peter Brotzmann, Ken Hyder and David Murray to the venue, as well as South African jazz pioneers Johnny Dyani, Chris McGregor and Louis Moholo-Moholo.
Throughout the 1970s, the Third Eye was a hub for local jazz musicians, including McGrath, bassist George Lyle, drummers Nick Weston and Bill Kyle, pianist Jim Vincent, and saxophonists Gordon Cruickshank, Bobby Deans, Tony Gorman, and John Longbotham. In the 1980s, a new generation of musicians regularly played the venue, and from 1987, it became a key venue for the Glasgow International Jazz Festival, with concerts by avant-garde legends Fred Frith and John Zorn, Lol Coxhill and Maggie Nicols.
Thanks to Tom McGrath's early adoption of video technology, we have a substantial archive of performances from the Third Eye and its sister venues. Highlights will be shown as part of the talk, alongside responses by contemporary Glasgow-based musicians.
—
Stewart Smith is a writer, broadcaster and academic specialising in jazz, improvised and experimental music. He is a regular contributor to The Wire, Bandcamp Daily, We Jazz, The Quietus, The List and Tribune, and presents Jazz Police on Repeater Radio. Recently, his focus has shifted to production and promotion. In 2021, he produced the Creative Scotland funded archival project Jazz At The Third Eye, sharing archival material and commissioning new works relating to Glasgow's pioneering multi-arts space of the 1970s and '80s. He teaches contemporary jazz and improvised music at Newcastle University.
4:45 pm doors, 5:00 pm start time
No age restriction